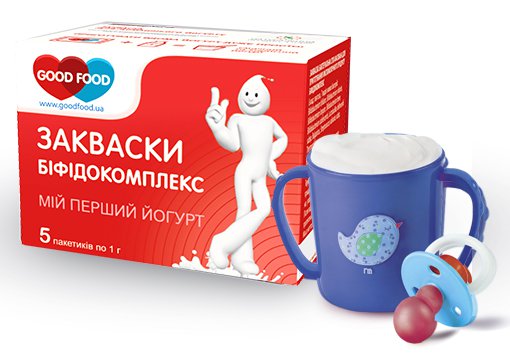 Bacterial ferments TM GOOD FOOD for domestic fermented milk products
Homemade yoghurts are wholesome natural products. Without special efforts from milk and kefir, you can prepare yourself classic yogurt, kefir or ryazhenka, or such unique curative products as Symbiotic, Immunalis, a drink of Caucasian long-livers - Narine, a special sour-milk drink for the first food and nutrition of children - Bifidocomplex, or a unique product for weight loss - Fitness Yogurt.
The ferments TM "GOOD FOOD" is a high-quality product. All strains of microorganisms that are used in ferments meet the parameters of international standards for probiotics. The production of ferments TM GOOD FOOD is certified by the international quality management system ISO 9001-2008.
Each ferment TM GOOD FOOD is a unique complex of useful bacteria - natural components of a healthy human microflora. Bacterial compositions in the ferments of "GOOD FOOD" include all the necessary probiotic bacteria in different combinations:
for everyday use;
to restore micro flora;
for pregnant and breastfeeding mothers;
for sour-milk complementary foods;
to slim down and burning fat;
for older people, etc.
The assortment of ferments TM GOOD FOOD can satisfy the needs of the widest audience of customers.
Bacterial ferments TM GOOD FOOD has been created and produced by order of the company "GOOD FOOD" in the Center for Research and Development of Biochemistry - BIOCHEM srl. in Italy.
More detailed information is in the instructions for use.