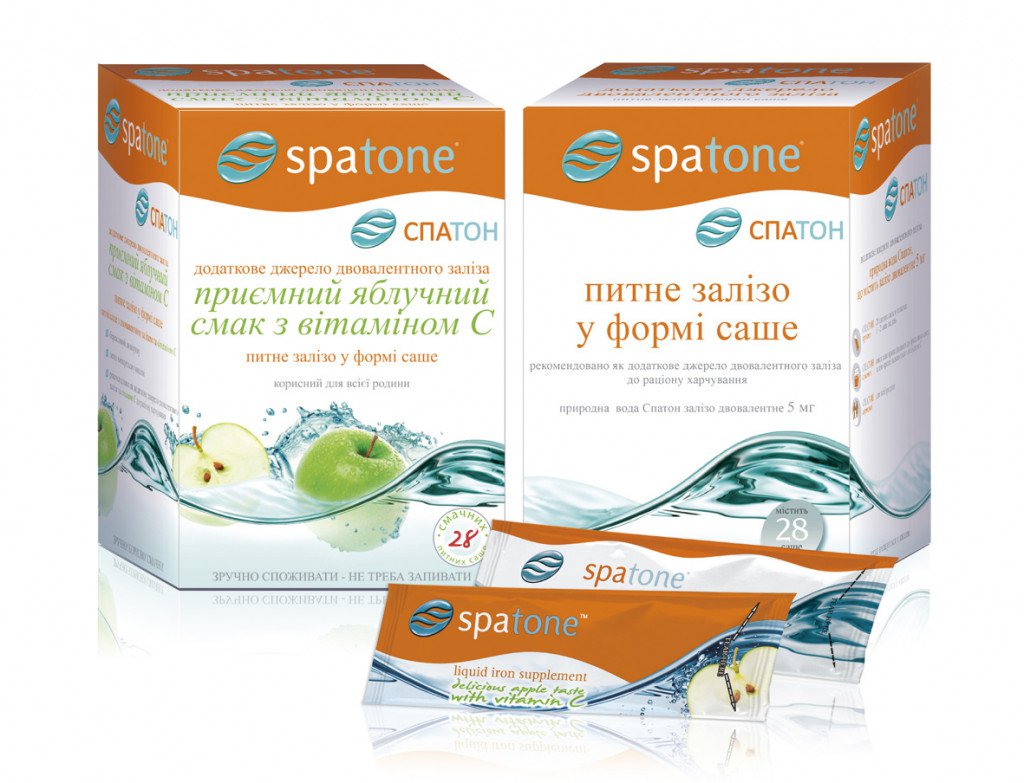 "Spaton" is an additional source of iron bivalent in a drinking form.
The natural dietary supplement "Spaton" contains 100% thermal water enriched with iron (Fe 2+) from the source of Trefyu Wales Spa, located in the Snowdonia nature reserve, Wales, Great Britain.
Water is known for its healthful properties and has been used for more than 200 years for the production of the dietary supplement "Spaton" as a natural source of iron.
Water is extracted, filtered and packaged in convenient and easily opened sachets, preserving its natural components at all phase of production.
Iron is an important constituent of haemoglobin, which transports oxygen from the lungs to the tissues. Therefore, it is so important to fill iron deficiency with the external sources - balanced nutrition and iron-containing remedies. From the full balanced food, iron is assimilated by only 5-10%, and the bioavailability of iron from synthetic drugs is 3-10%.
Iron from "Spaton" is assimilated by 40% since the additive contains bivalent iron, the and its bioavailability is higher than of ferric iron, for example, from plant foods.
The natural dietary supplement "Spaton" is produced as a sachet (20 ml each) in cardboard boxes of 14 or 28 sachets in a pharmaceutical production according to international standards and has two forms - with neutral taste and with the addition of apple juice and vitamin C. To replenish the body needs in iron enough use1 sachet dietary supplement "Spaton" per day.
"Spaton" with a neutral taste is better taken in a diluted orange juice since vitamin C improves the digestibility of iron. It is not necessary to dissolve "Spaton" with apple flavour because it already contains vitamin C.
The iron from the "Spaton" will help restore the balance of this vital element to people suffering from iron deficiency. Also, "Spaton" is recommended for women (especially of reproductive age), pregnant and breastfeeding, for men, for vegetarians, for children over two years old, for sportsmen and elderly people.
Storage: 24 months at room temperature and protected from moisture.
Keep out of the reach and sight of children.
Manufacturer:
"Spaton Ltd", TrefrewWellsSpa, Snowdonia, North Wales, LL27 0JS, Great Britain.
Produced for A Nelson Co. Limited, NelsonsHouse, 83 Parkside Wimbledon, London SW19 5LP, United Kingdom.
More details are in the instructions for use.