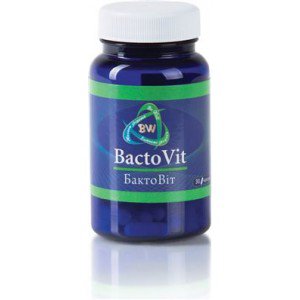 "BactoVit" is a dietary supplement normalizes and maintains a healthy intestinal microflora.
Disrupt the intestinal microflora, and its functioning may be infections, antibiotics, malnutrition, various stresses cause dysbacteriosis and disorders of the digestive tract.
Dietary supplement "BactoVit" contains probiotic cultures and use with the doctor's recommendation for normalizing the intestinal microflora and digestion processes during or after taking antibiotics, with a change in diet, including travel, to prevent the development of dysbacteriosis, indigestion (diarrhea, constipation), to restore the body's natural defense and maintain immunity.
The dietary supplement "BactoVit" includes Bifidobacterium (Bifidobacterium bifidum CFU / g - 1 × 1010), lactobacillus (Lactococcus lactic KUO / g - 1 × 1010) and B vitamins (B5, B12, B1, B6, B2) . Bifidobacteria are valuable because of they able to synthesize amino acids, vitamins B, K, pantothenic and folic acid. Also, they improve the processes of hydrolysis and absorption of proteins, fats, and carbohydrates. Lactobacilli in the human body compete for survival with potential pathogens and stimulate the immune system, and also can prevent the absorption of certain toxic substances. Vitamins of group "B" are responsible for the activity of the immune system.
Due to a combination of Lacto-, bifidobacteria, and vitamins of group "B", "BactoVit":
prevents the development of dysbiosis;
normalizes the intestinal microflora;
eliminates diarrhoea and constipation;
supports immunity;
is an additional source of vitamins;
improves digestion, prevents indigestion.
"BactoVit" is the acid-resistant capsules, allows us to deliver useful microorganisms directly into the intestines, where dysbacteriosis locate.
"BactoVit" has no contraindications to use, except for individual intolerance to the ingredients.
Manufacturer: Lifplen Products Limited, United Kingdom, Lifeplan Products Limited for Ambe Limited Ambe Medical Group, United Kingdom, Ambe Limited t / an Ambe Medical Group, Ambe House, Commerce Way, Edenbridge, Kent TN8 6ED, United Kingdom, tel: 01732 760 900.
More detailed information you can find in the instructions for use.