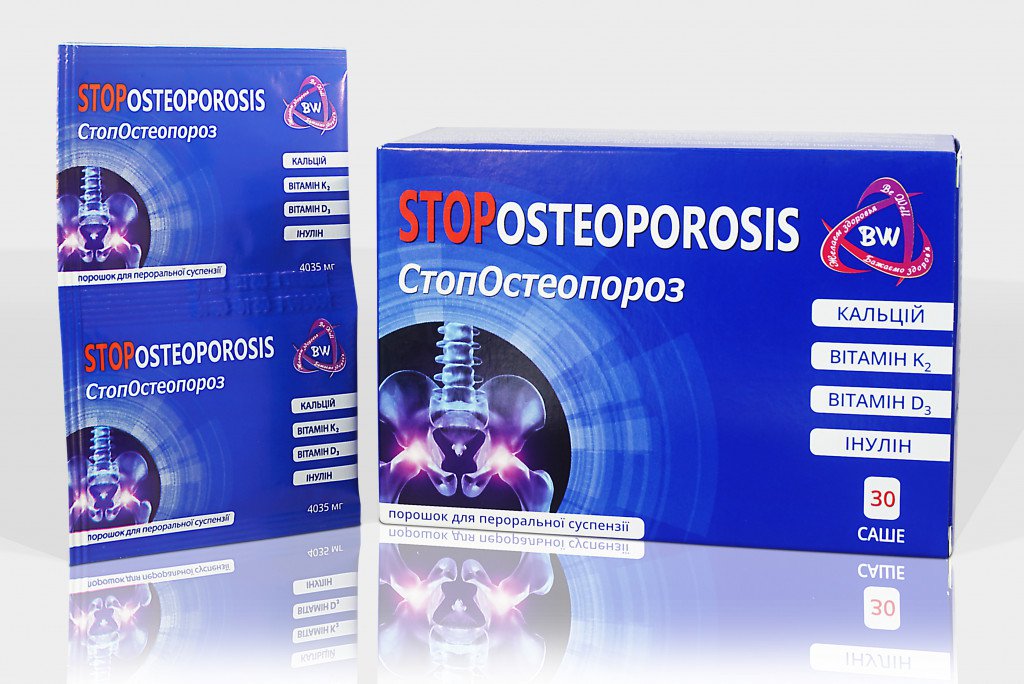 "Stop Osteoporosis" is an additional source of calcium, vitamins K2 and D3. The dietary supplement "Stop Osteoporosis" helps normalize the mineral metabolism of calcium and phosphorus, improve bone tissue, increase bone density, reduce the risk of fractures and makes for the regeneration of cartilaginous tissue.
Imbalance of calcium metabolism in the body leads to an increase in the fragility of bones, a decrease in their strength and the development of osteoporosis. In osteoporosis, calcium is washed out of the bone more quickly than accumulates.
The combination of Ca and vitamins K2, D3, as well as insulin in the compound of the drug "Stop Osteoporosis" allows not only to saturate the body with calcium enough but also to prevent overage the calcium.
So, Vitamin D3 is a substance regulates the metabolism of calcium and phosphorus and helps the growth on of the skeleton. Insulin stimulates the growth of bone tissue and enhances the absorption of calcium in the human body.Vitamin K2 (menaquinone) distributes Ca, removing Ca spillover from soft tissues (muscles, vessels, eyes, etc.) and directs it to bone tissue, by activating the protein MGP (MatrixGlaProtein), which removes calcium crystals from human vessels. Thus, menahinon cleanses the blood vessels. Vitamin K2 takes an important part in the synthesis of proteins, in particular, osteocalcin,- a protein responsible for the metabolism of calcium. It activates osteocalcin, helping the bones become stronger.
"Stop Osteoporosis" is used for:
Prevention of osteoporosis
Treatment of osteoporosis
Complex treatment of bone fractures
Especially the "Stoposteoporoz" is recommended for use in elderly people, women during the menopause, suitable for people with diabetes.
"Stop Osteoporosis" is produced in a convenient form of sachet No. 30, packed in a cardboard box.
Keep the drug in its original packaging at a temperature not higher 25 ° C in a dry place. Keep it out of reach and sight of children.
Produced by К.Т. ROMFARM COMPANY SLL, ul. Yerilor No. 1A, Otopeni metro station, 075100, Ilfov district, Romania /S.C. RompharmCompany S.R.L., Eroilorstr., No. 1A, Otopenicity, 075100, county Ilfov, Romania, tel .: +4021 350 4640
More detailed information is in the instructions.